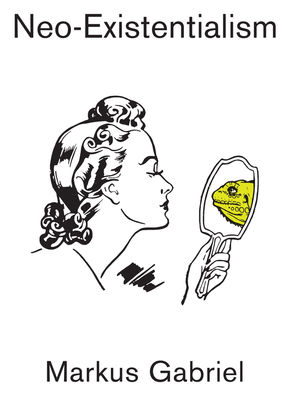 Neo-Existentialism
Polity
2018
Paperback $16.95
140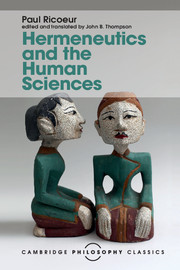 Hermeneutics and the Human Sciences: Essays on Language, Action and Interpretation
Cambridge Philosophy Classics
Cambridge University Press
2016
Paperback £ 14.99
313
Reviewed by: Francesco Poggiani (Pennsylvania State University)
Introduction
The title of this anthology (originally published in 1981 and including eleven studies published in the 70's) hints at the prospect of expanding our knowledge of human affairs in light of a general theory of textual interpretation ("hermeneutics). The more immediate purpose of these essays, however, consists in the articulation of the basic motivations for considering the "method" of the human sciences (sciences de l'esprit) as hermeneutical without renouncing their status as sciences. Indeed, according to Paul Ricœur, the psychological, social and historical disciplines constitute not so much a potential application of hermeneutics as its proper domain — hermeneutics being conceived by the French author as the "theory of the fixation of life expressions by writing" (even if, originally, it was confined to the field of biblical exegesis). At the same time, many of the essays in this collection are not merely concerned with methodological and epistemological questions. By reflecting on the nature and paradigmatic features of textual interpretation, Ricœur was engaged in the project of exploring the "subjectivity" which at once presides over and results from action as well as text-interpretation.
As Ricœur explains in his response to John Thompson's illuminating introduction, his own hermeneutical turn, in the second volume of his first major project on the will (especially The Symbolism of Evil) was at least partially motivated by the desire to overcome a "disturbing gap" between "the essential structures of the volitional consciousness" (the subject of his first two books, Freedom and Nature and Fallible Man), and "the historical or empirical condition of the human will, prisoner of the passions and prone to evil." That is to say, Ricœur's interest in interpretation (of symbols and, later, of "all phenomena to a textual order") was initially motivated by his identification and critical engagement with the tradition of "reflective philosophy" (or philosophy of reflection) – as developed by Descartes, Kant, and Husserl – which "seeks to disclose authentic subjectivity through a reflection upon the means whereby existence can be understood."
Accordingly, and since a detailed summation would require more words than the present review can offer, I shall focus here on the way in which these essays reflect the development of Ricœur's understanding of subjectivity. This emphasis is also justified by the fact that the anthology constitutes an important transition to Ricœur's later studies of selfhood and narrativity. I will focus primarily, although by no means exclusively, on one essay (arguably the most significant) from each of the three parts in which the collection is organized: "Phenomenology and Hermeneutics," regarded by Ricœur as "the real introduction" to his subsequent work; "Appropriation," which appeared for the first time in this collection; and "The Model of the Text: Meaningful Action Considered as a Text," which was originally written in English and represents the most immediately relevant essay to the anthology's topic. As Ricœur points out, "the basic analogy between text and action is the key to the relation between the theory of interpretation and the social sciences."
In his preface to this edition, Charles Taylor writes that the similarity between "text interpretation" and "making sense" of action, as it is entailed by the dialectic between explanation and understanding, is also reflected by the "impossibility of claiming closure" in both domains. "No matter how convincing our present reading, it is always possible that someone could propose a better one. And the same applies to human action in history." Ricœur's overall project in these essays, as I read them, consists in showing that while all interpretation (the very means by which subjectivity can be realized as well as disclosed) entails the impossibility of "absolute knowledge," the inherent openness of the interpretative process —its irreducible distance from its own ideal fulfillment — is at the same time the positive condition for pursuing a "science" of human life.
The Central Discovery of Phenomenology
Ricœur was a Husserlian phenomenologist well before his involvement with Gadamer's work and philosophical hermeneutics. Indeed, such an interest emerged from his realization that, insofar as all "intuition" entails "explication" (explicitation) — a coincidence which Husserl "perceived" without being able to "draw all its consequences" — "phenomenology can be realised only as hermeneutics." At the same time, the inescapable character of explication — the fact that nothing at all can be intuited, grasped or experienced without being somehow articulated or "interpreted" in the most basic sense of this word — is itself explained by the "universality of intentionality" — the idea that, since all consciousness is consciousness of an object, "no consciousness is self-consciousness before being consciousness of something towards which it surpasses itself." Thus, if phenomenology can only be realized as hermeneutics, it is only because intentionality, our being "outside" of ourselves "towards meaning," is the (phenomenological) presupposition of all forms of understanding.
In particular, according to Ricœur, it is "the reference of the linguistic order back to the structure of experience" which constitutes "the most important phenomenological presupposition of hermeneutics." Indeed, "when the latter subordinates lingual experience to the whole of our aesthetic and historical experience, it continues, on the level of the human sciences, the movement initiated by Husserl on the plane of perceptive experience." But if experience is always already "structured" or articulated, we cannot confuse it with any sort of "ineffable immediacy;" rather, "Lebenswelt" must be understood as "the surplus of sense in living experience" which "renders the objectifying and explanatory attitudes possible." This is why Ricœur eventually moved away from an idealistic phenomenology of "foundations" toward a speculative philosophy of ontological manifestation. As he puts it, "the concept of manifestation of a world, around which all other hermeneutical concepts are organised, is closer to the idea of the 'self-presentation' of the true, following the preface to The Phenomenology of Mind, than to the Husserlian idea of constitution."
Belonging, Distanciation, Appropriation
This triad constitutes the core of Ricœur's conception of interpretation. Belonging — "the hermeneutical experience itself" — represents the positive counterpart of the experience of finitude which is entailed by the discovery of intentionality. If we cannot become conscious of ourselves without explicating features of a world in which we are already implicated, it follows that such a worldly engagement "comes before any constitution of the object by a sovereign subject." Belonging expresses, in this sense, the Heideggerian concept of being-in-the-world, hence the "primacy of care over the gaze," or, more precisely, the "priority of the ontological category of the Dasein which we are over the epistemological and psychological category of the subject which posits itself."
Up to this point, Ricœur was commenting upon aspects of Heidegger and Gadamer's hermeneutical thought. His novel contribution consists in the way he tried to overcome what he saw as the "central problem of hermeneutics," implied in the "epistemological specificity" of interpretation: the fact that interpreting a text appears as a radically different process than, for example, explaining a natural phenomenon, as Dilthey and others had already pointed out. What makes this difference particularly problematic is that interpretation, unlike explanation, seems to involve a circularity whose hypothetical viciousness would affect the validity of its results. If the "human sciences" as a whole are hermeneutical in their method, it might be the case that, after all, no scientific knowledge of human affair could ever be attained.
According to Ricœur, both Heidegger and Gadamer partially supported this conclusion for the sake of preserving the specificity of philosophical, historical, and other forms of "human" understanding. This move, however, depended upon accepting, without questioning any of it, an opposition between "alienating distanciation", allegedly produced by scientific explanation (alienating because it abstracts from our concrete experience of being-in-the-world) and the "participatory belonging" which is the constant presupposition of all interpretation. In light of this antinomy — which, according to Ricœur, is "the mainspring of Gadamer's work," as attested by the very title of his major book (Truth and Method) — all forms of objectification entail some level of falsification of the experience they intend to describe and explain.
By contrast, Ricœur wants to think of "distanciation" (or objectification) as a "moment" of belonging. To be clear, he did not intend to deny that the natural and human sciences are concerned with different "regions" of reality. His point was rather that, if we pay attention to the "paradigm of writing" and its counterpart, reading, distanciation ceases to be a merely necessary but problematic dimension of understanding — necessary because all signification requires interrupting our "lived experience in order to signify it;" problematic because thereby the problem emerges how not to distort experience in the very act of signifying it. And it ceases to be problematic because it now appears as having a "positive and productive function at the heart of the historicity of human experience." In this respect, as Gadamer himself perceived ("without perhaps giving it the emphasis which it deserves"), "mediation by the text is the model of a distanciation which would not be simply alienating… The text is, par excellence, the basis for communication in and through distance."
Of course, distance here doesn't merely refer to the temporal distance of texts and other text-like monuments from the past, but also to that "positive distancing" which, on the one hand, "establishes the autonomy of the text with respect to its author, its situation, and its original addressee" and, on the other and, projects "a new being-in-the-world … freed from the false evidences of everyday reality." With respect to the latter, Ricœur suggests that the "non-ostensive reference" or "matter" of the text, as he often calls it, can be understood or "rendered near only in and through" the distance generated by the "imaginative variations" which the text "carries out on the real." Thus, in the last essay of the collection ("The Narrative Function"), Ricœur argues that this dialectic between the alien and the familiar "places history in the neighborhood of fiction." Similarly, after recalling Benedetto Croce's claim that there is only a history of the present, he suggests to modify it as follows: "there is only a history of the potentialities of the present. History, in this sense, explores the field of 'imaginative' variations which surround the present and the real that we take for granted in everyday life. Such is the way in which history, precisely because it seeks to be objective, partakes of fiction."
The "consubstantiality" between belonging and (positive) distanciation has two important implications. First, as we have already seen, "there is no need to search, under the title 'sphere of belonging', for some sort of brute experience which would be preserved at the heart of my experience of culture, but rather for an antecedent which is never given in itself." I belong to this or that tradition, or undergo a given experience, always according to a certain modality of participation or engagement, under a certain description or respect, and from the perspective generated by certain interests. "In spite of its intuitive kernel, this experience remains an interpretation. 'My own too is discovered by explication and gets its original meaning by virtue thereof'," as Husserl himself wrote. Second, insofar as understanding a text involves a final act of "appropriation" (the act of rendering near what is far), interpretation can no longer be understood as a projection into the text of the reader's prejudices. This is because the act of appropriation is dialectally related to the experience of distanciation (of the matter of the text from the reality of our habitus) whereby, "as reader, I find myself only by losing myself."
But how is this possible? "How can this letting-go, this relinquishment, be incorporated into appropriation?" How can it be anything more than a temporary distraction from which we must eventually recover in order to ascertain, from the perspective of our own interests and concerns, what the text means (to us)? In order to answer this question, Ricœur links the act of appropriation "to the revelatory power of the text which we have described as its referential dimension. It is in allowing itself to be carried off towards the reference of the text that the ego divests itself of itself." Here as elsewhere, Ricœur makes clear that it is not a matter of compromising between objective meaning and personal subjectivity, but of showing how they are reciprocally generated. "The notion of subject must be submitted to a critique parallel to that which the theory of metaphor exercises on the notion of object. In fact, it is the same philosophical error which must be understood from both extremities: objectivity as confronting the subject, the subject as reigning over objectivity."
Consequently, as writing carries out imaginative variations on the real, "reading introduces me into the imaginative variations of the ego" (Ricœur goes so far as to say that "it is the text, with its universal power of unveiling, which gives a self to the ego"). Indeed, "the metamorphosis of the world in play is also the playful metamorphosis of the ego." And since the later "implies a moment of distanciation in the relation of self to itself … understanding is as much disappropriation as appropriation."
Text as Paradigm of Action
One of the most interesting aspects of this anthology is Ricœur's attempt to find a concept of interpretation which could explain the foregoing experience of reading, in which a text seems to have intentions or "injunctions" of its own, independent of its author, and capable of engendering self-transformation through the imaginative variations it induces of the reader's world and ego. A text, in this sense, is not only the embodiment of the author's intentions, but a semi-autonomous source of potential meaning. If "to interpret is to follow the path of thought opened up by the text" — to comply with its injunctions — our concept of interpretation as a subjective act on the text must be replaced by, or combined with, an understanding of it as an objective act of the text itself (upon the reader). In this respect, Ricœur's appeal to Aristotle's On Interpretation and, above all, to Charles Peirce's semiotics, become central to his argument.
Unfortunately, Ricœur's engagement with Peirce's work does not go beyond a superficial assessment and appears to be mostly informed by secondary sources. At the same time, he does capture a quite crucial point of Peirce's concept of interpretation: its "synechistic" nature, namely the continuous, non-extrinsic character of the relationship between (to use Ricœur 's terminology) "tradition" — what a text or other forms of discourse signify (tradit) — and "interpretation" — what it evokes in the mind of the interpreter. "According to Peirce, the relation of a 'sign' to an 'object' is such that another relation, that between 'interpretant' and 'sign', can be grafted onto the first." We have here another expression of the consubstantiality between belonging and distanciation, in that a sign can signify or "belong" to an object only by determining a further sign (the interpretant). For instance, the word "chair" can only signify a chair by evoking an image of it, which is course another sign. Yet this irreducible "distance" of any sign from its object is a necessary condition for understanding it. A sign incapable of generating a further interpretant of its object would be as incomprehensible as a sign without any object whatsoever — it would indeed be meaningless.
Accordingly, the above mentioned continuity between tradition and interpretation does not entail the kind of deductive closure one might expect from it. Paradoxically, the more one enters into the actual meaning of a text, the more her insights are "open" to interpretation, not only in the sense of being revisable, but also in the positive sense of being intellectually fecund, capable of generating new ways of being read, articulated and developed (the Gospel's notoriously enigmatic phrase might be illuminating in this context: "For whosoever hath, to him shall be given, and he shall have more abundance: but whosoever hath not, from him shall be taken away even that he hath [Matthew 13:12, KJV]). Ricœur clarifies this point by citing Gilles-Gaston Granger: "The sign-interpretant association, realised by whatever psychological processes, is rendered possible only by the community [continuity], more or less imperfect, of an experience between speaker and hearer," or text and reader. But this experience "can never be perfectly reduced to the idea or object of the sign," that is, to an immediate or "brute" notion of belonging. "Whence the indefinite [open] character of Peirce's series of interpretants."
We finally come across Ricœur's argument concerning the analogy between text and action. "My claim is that action itself, action as meaningful, may become an object of science, without losing its character of meaningfulness, through a kind of objectification similar to the fixation which occurs in writing" — a fixation in virtue of which, as we have seen above, "the author's intention and the meaning of the text cease to coincide." But how can the same dissociation take place with action? Doesn't an action by definition require the contemporaneous presence of an agent? Isn't here a deeper subjective irreducibility than in the case of the text? For instance, while a text can indeed become relatively independent of the original writer's intentions, the action of writing cannot in the same way be dissociated from the agent's intention to write.
And yet, as Ricœur insists, unless human behavior can be "fixated" or objectified without losing its significant (intentional) character — unless "the expressions of life undergo a kind of objectification" — it won't be suitable to become an object of scientific inquiry. This is because inquiry always requires its object to be inscribed in "external marks," in the same way in which a discourse must be written down in order be not only practically understood but also theoretically analyzed. And if it is indeed impossible for the meaning of "action events" to be inscribed, a scientific understanding of human affairs could only amount to explaining away their original significance as a subjective phenomenon (as it happens with reductive explanations of action in terms of biological and neural concepts). This phenomenon, in turn, could only be understood or interpreted in a "romantic" sense of the term, namely, in virtue of our "pretension of recovering, by congenial coincidence, the genius of the author." This is why there might be a genuine antinomy between understanding and explanation.
On the other hand, as Ricœur points out, action does sometime appear to dissociate itself from the agent's intentions without losing its meaningful character. That is the case of actions which, as we sometime put it, leave "traces" or "marks" — not only because they have consequences (this is true of all actions), but also insofar as their importance goes beyond their relevance to the initial situation, even if only by embodying general features (such as "desirability characters") which may be made the object of subsequent practical reflection. Accordingly, "could we not say that the process of arguing linked to the explanation of action by its motives unfolds a kind of plurivocity which makes action similar to a text?" Thus an action-event, like a speech-act, entails "a similar dialectic between its temporal status as an appearing and disappearing event, and its logical status as having such-and-such identifiable meaning or 'sense-content'." On this point, I believe Ricœur's work might benefit by an even deeper interaction with "analytic" theories of agency — an interaction he continued to pursue in his subsequent work (see especially Oneself as Another).
"But if the 'sense-content' is what makes possible the 'inscription' of the action-event… what corresponds to writing in the field of action?" In other words, how can an action become "detached from its agent" and develop "consequences of its own"? Ricœur's answer to this question echoes the above seen concept of interpretation as an essentially open and communal process. If the inscription of discourse has a spatial dimension, it is in "social time" that the "autonomization" of action occurs. And social time, Ricœur points out, "is not only something which flees; it is also the place of durable effects, of persisting patterns. An action leaves a 'trace', it makes its 'mark' when it contributes to the emergence of such patterns which become the documents of human action." The objectification of meaningful behavior is essentially social, and it is social in virtue of the temporal dimension of all human interactions, in which certain actions and events come to be seen as weighing more than others, and their effects are consequently more lasting and pervasive (however less discernible and thus more easily discardable).
But in order for the effect of an action to last, its capacity to be recollected is not enough. It must, on the contrary, be developed into persisting and increasingly complex patterns of behavior, so as to transcend its original address and situation. In order for an action to become important (worthy of being recollected, registered, celebrated, questioned, interrogated, institutionalized, etc.), it must be capable, like a text, of opening up a "world" whose relevance "exceeds … the social conditions of its production and may be re-enacted in new social contexts. Its importance is its durable relevance and, in some cases, its omni-temporal relevance."
Conclusion
This is only the skeleton of Ricœur's answer to the question about the nature of "truth" in the human sciences. The essays of the third part, in particular, articulate the implications of the foregoing remarks for critical theory, psychoanalysis, and history. Most importantly, the anthology as a whole reflects Ricœur's commitment to show how a philosophy of reflection can become "concrete" without renouncing its "scientific" aspirations. It can do that by pursuing, at all levels of analysis, the dialectical relation between freedom and necessity, distanciation and belonging, method and tradition, fiction and history or, from another perspective, critique and ideology. Thus, one the one hand, "all objectifying knowledge about our position in society, in a social class, in a cultural tradition and in history is preceded by a relation of belonging upon which we can never entirely reflect." On the other hand, the impossibility of "complete reflection" is but an expression of that "potentiality of meaning" which it is our fundamental responsibility to "appropriate" by giving up our dominant world-interpretations for the sake of their impending explications.
The Language Animal: The Full Shape of the Human Linguistic Capacity
The Belknap Press of Harvard University Press
2016
Hardcover, $35
368
Reviewed by: W. Clark Wolf (Department of Philosophy, Marquette University)
Charles Taylor's new book places the meaning-making capacity of language in service of a philosophical anthropology that has been at the heart of his influential work for decades. In general, Taylor's hermeneutical approach to philosophy emphasizes the essential character of "human meanings" for any explanation of our world. Taylor has long been concerned that the naturalistic approach dominate in mainstream analytic philosophy has no room to accommodate these uniquely human – "metabiological" – meanings. His new book suggests that a central aspect of the naturalistic failure to understand the human world is due to a faulty conception of language that has been dominant since Frege, and indeed for a lot longer.  Taylor places blame on the empiricist view of language common to Hobbes, Locke, and Condillac (HLC).  Since, as Taylor argues, language plays an indispensable role in the constitution of the human world (especially in its ubiquitous normativity), an impoverished view of language has resulted in an impoverished conception of ourselves.  Taylor proposes that an alternative historical tradition of reflection on language—for which he credits especially Hamann, Herder, and Humbolt (HHH), but which includes the Romantics and phenomenological thinkers like Heidegger as well—provides an understanding of language that simultaneously underlies an adequate philosophical anthropology.  Using insights from this tradition as well as his own gift for apt description, Taylor attempts to demonstrate what mainstream philosophical reflection on language has missed and what an appreciation of "the full shape of the linguistic capacity" has to say about the kind of "animal" we are.
The Basic Argument
The core argument of the book concerns the distinction between the "designative" and "constitutive" function of language.  Taylor argues that both the HLC tradition of linguistic thinking as well as post-Fregean philosophy of language rely on a model of language wherein its primary (even exclusive) function is to provide signs for designating objects.  Accordingly, the existence and characteristics of which can be noticed and known quite independently of those signs.  Taylor calls this an "enframing" theory of language, since here language merely puts a framework of human life in place that exists without its help (p. 3).  The central doctrine of the enframing theory is that words are signs for prior thoughts.  Thus, according to HLC, words are at best obtrusive windows into thought, necessary expedients.  This view works hand in hand with a firm rejection of any "Cratylean" dimension to language, a sense that words can "fit" the things they express.  Though Taylor acknowledges the modifications to the early modern conception of language within analytic philosophy, he thinks that the mainstream tradition has preserved the central elements of that doctrine.  Despite Frege's appreciation of the fact that words themselves cannot function as signs or meanings of anything apart from the context of a sentence or proposition, analytic philosophy maintained a primarily epistemological interest in language (p. 117), and for this reason seemed only or primarily to notice its assertive dimension.  As Robert Brandom puts it, the "assertion game" of language is the one that could be played "though one played no other" (p. 127).  Thus, even if other aspects of language are acknowledged, they turn out to be subordinate to its role of enabling the communication of veridical thoughts.  According to Taylor, this perpetuates the notion that the function of language is merely to designate what is otherwise available.
Happily, Taylor contends that this impoverished view of language is not the only one on offer. Developed partially in response to the designative view as developed by Locke and Condillac, thinkers like Hamann and Herder inaugurated a conception of language which recognizes its constitutive dimension. Taylor explains this idea using the concept of "articulation," which was especially significant for a later figure in this tradition, Wilhelm von Humboldt.  To articulate, for Taylor, is not simply to express some feature of the world already in the open, but to make it possible to notice this feature in the first place.  As Humboldt took pains to demonstrate, human speech uniquely allows for the inscription of differences that allows for the production of diverse thoughts[1] (an insight further developed by Saussure).  For this reason, a determinate thought cannot precede a word as its mere sign, but the thought can only emerge coevally with the articulation of the word.  If thought does not precede a merely instrumental language, language itself must play a productive role.  Taylor argues that it is "human meanings" that are constituted by language.
Human meanings are the modes of significance possible for us on a "metabiological" level, integral features of our ordinary lives such as music, morality, and political community.  In each of these cases, language (understood in a broad sense) plays a role in "enacting" a meaning that becomes bound to a certain feature of life, but goes beyond anything merely given.  Language for Taylor is thus the clue for the discontinuity between ourselves and the "extralinguistic" or natural world.  As he writes,
"We can't explain language by the function it plays within a pre- or extralinguistically conceived framework of human life, because language through constituting the semantic dimension transforms any such framework, giving us new feelings, new desires, new goals, new relationships, and introduces a dimension of strong value.  Language can only be explained through a radical discontinuity with the extralinguistic" (p. 33).
In a strong sense, for Taylor, language provides the basis for all human meanings that transcend our mere naturalness.  This is why I suggest that Taylor here proposes something like the foundation of a "philosophical anthropology."[2]
Taylor's critical task is to demonstrate the weaknesses of the "enframing" theory as an account of language as it actually features in human life.  His positive task is to convince us of how the productive and constitutive function of language is an ever-present (but easily ignored) dimension of ordinary life.  To address these tasks, the book is divided into three parts.[3]
Part I, "Language as Constitutive," argues for the existence of a constitutive dimension of language in contrast to a merely designative function.  Taylor informs his perspective here both with classic and contemporary linguistic theory, as well as onto-genetic accounts of language development in children.  This research shows that the HLC account of language has underestimated the way in which language is embedded and embodied in broader contexts of human life.  Taylor emphasizes, for example, the way language figures in human life as essentially accompanied by bodily gesture and social ritual.  The empiricist conception of language as designative simply has no room for such considerations, but this deprives it of explanatory and even descriptive power.  The HLC conception of language is fed by a "narrow diet of examples."
Part II, "From Descriptive to Constitutive," begins by addressing more specifically the historical roots of the "enframing" theory of language as it originates in empiricism.  For Taylor, the key element of this theory lies in its commitment to the notion that thought is prior to language, so that language should be at best an "unobtrusive" window into individual minds.  Taylor then considers the merits of Frege's revolutionary work in the philosophy of language but suggests that, despite crucial innovations, he (and the tradition following him) preserved two mistakes of the empiricists.  First, the post-Fregean tradition continues to suppose that words denote features of the world that have already come to our attention (p. 133).  In this sense, language does not constitute genuinely new meanings.  Second, the analytic tradition ignores what Taylor calls the "Cratylean" dimension of language.  By this, Taylor means the ability of language to seem somehow "fitting" to the world.  We can experience a metaphor, for example, as getting it right, as articulating a new aspect of things that we couldn't have noticed without its help (p. 137).  Taylor continues Part II by giving a positive account of the constitutive dimension of language that is missed by the HLC tradition.  His focus is on what he calls "human meanings," which always belonging within a network of significance for us.  Human meanings are thus intimately interconnected with our practices, values, and emotions.  Since language does not describe human meanings that exist prior to their linguistic articulation, Taylor shows that this dimension simply cannot be captured by a designative view of language.
The final part, "Further Applications," takes a look at how appreciating the constitutive dimension of language helps to understand two more specific issues.  Taylor first discusses a thesis central to Paul Ricoeur's work, that narrative is hermeneutically irreplaceable.  That is, narrative understanding cannot be reproduced in the temporally neutral language of facts.  This shows how the insights gained from a literary work, for example, cannot be stated without reference to narrative context that gave them rise.  The final chapter addresses the "Sapir-Whorf" hypothesis that each language creates an incommensurable conceptual world, or "linguistic relativism."  Taylor's distinction between the designative and constitutive dimensions of language enables him to take a nuanced view of this thesis.  He suggests that the application of linguistic relativism to designative contexts is unconvincing, that where language serves as a vehicle for signifying objects, different practices do not support the idea of radically different linguistic worlds.  On the other hand, in language's constitutive dimension, where elements of our "ontology" are brought to light by our linguistic practices, we should expect a measure of incommensurability (325).  This serves as a warning to the "imperialistic" temptations of enframing theories of language (like Davidson's, for example), which suppose that we can understand someone's language without a thick mutual understanding.
The Humanization of "Meaning"
Taylor's book serves less to introduce a totally new approach to the philosophy of language or "philosophical anthropology" as to remind of the founding insights of the hermeneutical tradition and to provide them with further support, especially from recent empirical studies.  I hesitate to say that those familiar with the work of Paul Ricoeur and Hans-Georg Gadamer on language, not to mention the prior work of Taylor himself, will find little of groundbreaking significance here.[4]  Moreover, despite Taylor's passing mentions of Ernst Cassirer's theory of "symbolic forms," Cassirer himself develops a more systematic and arguably more persuasive account of the unique function of "human meaning" in the constitution of culture and knowledge.  This is only to say that the function of Taylor's book is pedagogical and perhaps therapeutic, rather than didactic.  The virtue of Taylor's writing is the way he "assembles reminders" for the sake of his purpose (as Wittgenstein describes the work of a philosopher).  That is, Taylor tells us what we already know but easily forget, especially amidst the tendency to over-intellectualize so tempting to philosophy.  Taylor's work is therapeutic in the way he attempts to reconcile us to our way of life in the "immanent frame."  Taylor wants us to notice how we already live, rather than to change our lives.  His anti-naturalist stance relies simply on the sense that a de-humanizing theory requires forgetting the way in which we "always already" depend on a structure of human meanings that cannot be explained from the outside.  While Taylor's book may not be obligatory for the specialist, it is rewarding for the sympathetic enthusiast as well as the hermeneutical neophyte.
            Nevertheless, I think there are significant causes for concern with Taylor's project.  I will discuss a few briefly.  First, Taylor's work exemplifies a commitment to a hermeneutical style of philosophy that may strike phenomenologically (not to mention analytically) oriented readers as lacking method.  While Husserl's phenomenology employs a descriptive method in service of the elucidation of "essences" or eidetic invariances, Taylor's hermeneutics seems to license the use of anecdotal description for any generic project of sense-making or understanding.  As Taylor describes hermeneutical reason, it is characterized by drawing together a "constellation" of meanings within some larger whole, against which the parts find greater significance (pp. 317-18).  This implies, to a certain extent, that nothing is off-limits for Taylor.  Anything, so long as it can claim to be a part of the whole under consideration, can make a demand to be explained.  In particular, Taylor's approach allows him to include a number of surprising features under the banner of language—feelings, gestures, rituals, music, etc.—that are obviously connected with the phenomenon of language in ordinary life, but don't seem to be essential to a conceptual articulation of language.  Taylor can then condemn rival accounts of language for failing to include such elements in their consideration, but their inclusion seems dependent on a holism so broad it starts to spread thin.  Taylor seems to forget that that hermeneutical holism can be maintained even while it is bracketed in favor of topical specificity.  On occasion, Taylor's criticisms of rival philosophers amount to a complaint that they are not doing everything all at once.
            A second concern relates to Taylor's concept of "human meanings," the central target of his book.  Taylor's concept of human meanings seems vague and this almost as a matter of principle.  Namely, Taylor resists any distinction between the conceptual articulation of human meanings from their embodiment in human practice.  To speak of "human meaning" is to speak of "the significance things have for us" (p. 179), and this in a way that seems viciously subjectivist.  While one can agree with Taylor concerning way the genesis of human meanings is coeval with their embodied "enactment," this does not imply that these human meanings cannot be discussed on a level of abstraction (our rightful caution of this word should not deny it a legitimate place in thought).  Failure to distinguish the conceptual level from the mode of its embodiment leads Taylor to bind human meanings to a thorough vagueness or indeterminacy.  It is because he does not allow for an (at least notional) abstraction of conceptual meaning that he can say of human meanings, "These meanings cannot escape the circles which help determine their significance; and these circles are always changing.  Hence they defy final and decisive definition" (p. 257).  Taylor means that our inevitably human concepts concerning morality, mind, custom, and language itself always resist genuine determinacy, since they are bound to personal significance.  This seems to reinstate a stereotypical contrast between rationalistic science and fuzzy humanism.  Taylor fails to recognize the legitimate rational stratum in human meanings, which is precisely necessary for the critical evaluation of such meanings.
It is here that Husserlian phenomenology holds out a promise.  For Husserl, the eidetic clarification of fundamental concepts is not restricted to those that figure in "hard" natural sciences, but includes those that figure in the "life-world" just as well.  Husserl writes,
"As regards this, nothing prevents starting at first quite concretely with the human life-world around us, and with man himself as essentially related to this our surrounding world, and exploring, indeed purely intuitively, the extremely copius and never-discovered Apriori of any such surrounding world whatever, taking this Apriori as the point of departure for a systematic explication of human existence and of world strata that disclose themselves correlatively with the latter."[5]
For Husserl, the natural human starting point provides the basic material for inquiry, but phenomenological inquiry employs it for the constitution of clarified concepts (though they are founded intuitively).  My concern with Taylor's understanding of human meanings is that he takes their naïve and unclarified role in human life as their ultimate truth.  His account leads us to resist ultimate clarification of these meanings, since such a clarification could only abstract from the particular contexts in which these meanings have their genetic origin for us.  Taylor's humanization of meaning is a shelter for the vagueness of meaning, while Husserl suggests that the normatively structured concepts of the human world are those that ought to be most clear.[6]
            In short, the fact that language (even taken in Taylor's broad sense) helps constitute a world for us that goes beyond the reach of natural science does not have to have the consequence that Taylor suggests, that this world is one that can be felt but not conceptually grasped.  This is of course a Hegelian point, and, from that point of view, it seems telling that Taylor's Romantic turn has led him to undervalue conceptuality.  We have seen that this puts Taylor at odds with a Husserlian conception of phenomenology as well.  Still, while Taylor's work will do little to sway those with rationalist leanings, he provides a thorough and engaging account of an embodied approach to language, meaning, and human life.  His book is especially recommended as an insightful reminder of the ways in which we inhabit a world which larger depends on our own making.
---
[1] See Wilhelm von Humboldt, On Language: On the Diversity of Human Language Construction and its Influence on the Mental Development of the Human Species, trans. Peter Heath, ed. Michael Losonsky (Cambridge: Cambridge University Press, 1999), §§ 8-10.
[2] This tendency of Taylor's makes a close analogy with Ernst Cassirer's use of his philosophy of "symbolic forms" as the basis for a philosophical anthropology in his An Essay on Man: An Introduction to the Philosophy of Human Culture (New Haven: Yale University Press, 1944).  Taylor often alludes to Cassirer's notion of symbolic forms, but the influence is clear throughout.  Cassirer, too, uses the inspiration of the linguistic theories of Herder and Humboldt his The Philosophy of Symbolic Forms, Volume 1: Language, trans. Ralph Mannheim (New Haven: Yale University Press, 1955).
[3] I will forgo the typical chapter-by-chapter summary, a version of which is easily accessible in Michael Forster's review of the same book: http://ndpr.nd.edu/news/69603-the-language-animal-the-full-shape-of-the-human-linguistic-capacity/.
[4] See especially, Paul Ricoeur, The Rule of Metaphor, trans. Robert Czerny (Toronto: University of Toronto Press, 1977); Charles Taylor, "Language and Human Nature" and "Theories of Meaning," in Philosophical Papers, Vol. 1: Human Agency and Language (Cambridge: Cambridge University Press, 1985).
[5] Edmund Husserl, Cartesian Meditations, trans. Dorian Cairns (The Hague: Martinus Nijhoff, 1970), 138; Hua. I, 165.
[6] Notice that just later in Husserl's text we find the conceptual aim of his investigations clarified: "Thus the investigations concerning the transcendental constitution of the world, which we have roughly indicated in these meditations, are precisely the beginning of a radical clarification of the sense and origin (or of the sense in consequence of the origin) of the concepts: world, Nature, space, time, psychophysical being, man, psyche, animate organism, social community, culture, and so forth." Ibid., 154; Hua. I, 180.