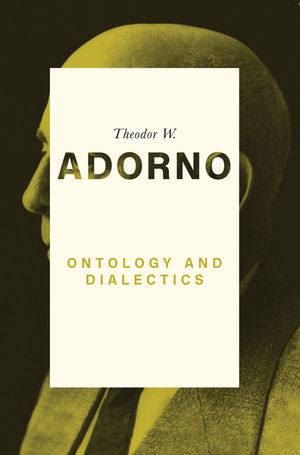 Ontology and Dialectics: 1960-61
Polity
2018
Paperback €21.46
384
Reviewed by: Sílvia Bento (Institute of Philosophy - University of Porto)
"I believe that if you look at the writings expressly directed against Wagner, and especially The Case of Wagner, you could readily extrapolate what he [Nietzsche] would have said against Heidegger. And I think if you could actually perform this feat of imagination that I am proposing to you, and envisage such a Nietzschean critique of Heidegger, then for penetrating insight it would surpass anything which I can offer you with my modest powers in these lectures." (104)
These intriguing remarks, set forth by Theodor W. Adorno in his series of lectures delivered in Frankfurt during the winter semester of 1960/61, can be regarded as the touchstone of Ontology and Dialectics. This lecture course of 1960/61 – and the three Vorlesungen delivered at the Collège de France in March 1961 – first published in 2002 under the title Ontologie und Dialektik, excels in presenting a subtle analogy between Nietzsche's positions concerning Richard Wagner's music as a cultural expression of décadence and his remarks on Heidegger's fundamental ontology as a degenerate movement or tendency against Aufklärung. As presented in Der Fall Wagner (1881), the Nietzschean formulation of Wagner's music as a "disease" affecting German culture is evoked in order to analyse the philosophical observations on Heideggerian ontology developed by Adorno in Ontology and Dialectics. According to Adorno's incisive observations, fundamental ontology, as defined by Heidegger, manifests a specifically German posture – considered by Adorno as profoundly deplorable – against Enlightenment ideology. As Adorno asserts, fundamental ontology is a philosophical movement which can be characterized as an abominably vile counter-Enlightenment. The Nietzschean analysis regarding the infamous power of seduction involving Wagner's music, from Adorno's point of view, is a "Heideggerian disease" because it profoundly affects the German academic world, which represents a new philosophical movement that is intensely respected and greatly venerated. The bizarreness of this Heideggerian spell, or disease, under which the German intelligentsia seemed to succumb, is often considered by Adorno:
"[…] for in Germany there are now hardly any responsible academic positions or professorial chairs in philosophy that do not feel obliged at least to show that they are somehow worthy of what has been achieved by Heidegger and Jaspers. And even those thinkers who for political and other reasons are extremely critical of both philosophers, but especially of Heidegger, still appear to be captivated – in a way I find really hard to understand since I have never experienced this spell myself – by this kind of thinking and seem unable to sever the umbilical cord entirely in this regard." (100-101)
According to Adorno, fundamental ontology, Heidegger's philosophical project, can be regarded as a philosophical tendency which owes its effect and possesses its forces through opposition to idealism in general. It is an anti-subjectivism; in fact, the philosophical question concerning fundamental ontology may be stated in a variety of ways. Adorno puts it thus: fundamental ontology is essentially an anti-subjectivist. Fundamental ontology stands in contrast to a philosophy which remains essentially devoted to a preliminary question, namely the question of how knowledge is possible at all. The coarse obliteration of the philosophical reflection upon the subjective mediation of knowledge and the epistemological relevance of the conceptual thought represents the chief theoretical posture of Heidegger's ontology as conceived by Adorno.
Fundamental ontology is unequivocally the chief subject matter of Ontology and Dialectics by Theodor W. Adorno. The relevance of such a book – essentially a compilation of 23 Vorlesungen delivered in Frankfurt in 1960/61 and in Paris, at the Collège de France, in March 1961 (we refer to the last three lectures included in the book) – can be described in accordance with the consideration that the positions expressed in Ontology and Dialectics represent as an initial discussion of the Heideggerian ontology developed by Adorno. It should be observed that Ontology and Dialectics presents a philosophical anticipation of the incisively penetrating analysis of the Heideggerian ontology which, ultimately, forms the core of The Jargon of Authenticity, published in 1964. According to the "Editor's Foreword" included in this edition, written by Rolf Tiedemann, the book Ontology and Dialectics, which expresses the philosophical antipathy to the ontological movement emanating from the Black Forest, evokes a project which Walter Benjamin and Bertolt Brecht had already begun to pursue around 1930, not long after the publication of Being and Time. The project they sought to pursue was that of "demolishing Heidegger" [den Heidegger zu zertrümmern]. The intention of "demolishing Heidegger" pervades Adorno's work and thought, especially after his return from exile to Germany. As Rolf Tiedemann elucidates, within the German philosophical academic circle developed after the end of the Third Reich, during the political and social process of re-establishing democracy in Germany, Adorno was widely regarded as the pre-eminent intellectual opponent to Heidegger – and Adorno accepted this incumbency. To lay emphasis on the fact that Adorno's Complete Writings comprise almost 600 references to the name of Heidegger (exceeded in number only by those to Walter Benjamin) is not superfluous. Clearly then, "demolishing Heidegger" was an Adornian philosophical project. Nevertheless, the Adornian critique of Heidegger is not an aggressive refutation of the fundamental ontology that is without merit, nor is it intended to chiefly condemn the political positions adopted by Heidegger. The Adornian objections to Heidegger's fundamental ontology that are most important are those which excel in revealing the dangerous political and social implications of a philosophical tendency – developed in accordance with the refusal of the cognitive sophistication of philosophy – that, in its instauration of odd cults and bizarre interests, promoted the pseudo-ideal of pre-Socratic irrationalism.
The title of the book, Ontology and Dialectics, alludes to Adorno' intention of presenting a philosophical contrast between Heidegger's fundamental ontology and Adorno's own conception of dialectical thought as negative dialectics. This intention is subtly illustrated in a story involving Gustav Mahler and his literary taste.
"It is well known that Gustav Mahler was passionately interested in Dostoyevsky, who stood for something quite different in the years around 1890 than he does of Moeller van den Bruck. On one occasion, during an excursion with Schoenberg and his pupils, Mahler is said to have advised them to spend less time studying counterpoint and more time reading Dostoyevsky. And Webern is supposed to have responded with heroic timidity: 'Pardon, Herr Direktor, but we have Strindberg'." (1)
As Adorno explains, this story is probably apocryphal; nevertheless, this episode involving Gustav Mahler's literary taste is mentioned by Adorno as a witty elucidation of the relationship between the new fundamental ontology of Heidegger (or, we might say, Dostoyevsky's new literature) and the tradition of the German dialectic thought (or, we might say, Strindberg's thought).  However, the emphasis upon the philosophical opposition between the new fundamental ontology and the traditional dialectic thought does not form the heart of Ontology and Dialectics. It is pertinent to observe that this series of lectures, published under the title Ontology and Dialectics, precedes the three lecture courses which form the book Negative Dialectics, Adorno's masterpiece, published in 1966. The thorough theoretical presentation of such a philosophical project – the delineation of the philosophical singularity and distinctiveness of the negative dialectic thought – is indeed the chief subject matter and the central line of thought developed by Adorno in Negative Dialectics, written between 1964 and 1966. It is worth noting that Ontology and Dialectics, which precedes Negative Dialectics, is especially devoted to the philosophical condemnation of Heidegger's fundamental ontology.
At any rate, as Adorno conceives it, the concept of Being, in Heideggerian terms, is not actually a concept at all. In fact, according to Adorno's reading of Heidegger's ontology, the concept of Being is not supposed to be the highest abstraction, the supra-concept reached by omitting all particular individuation, all particular determination. In approaching such a philosophical account of Being, Adorno intends to lay emphasis upon the fact that the Heideggerian ontological positions should be sharply distinguished from other kinds of ontology – such as the concept of ontology introduced by Husserl, the ontological project developed by Nicolai Hartmann, or the ontological positions advanced by the neo-scholastic tradition. The relentless obliteration of the conceptual dimension of Being defines the decided difference between Heidegger's fundamental ontology and the traditional ontologies. As Adorno clearly explains, Being, in Heideggerian terms, is supposed to be what is utterly prior and primary, that which is highest and most constitutive. The question regarding Being – over against the highest regions, the highest and most universal concepts of all possible classes of beings – is what is decisive here, precisely because it involves the problem of the possibility of ontology as such, namely whether such a pure doctrine of being can be thought as such independently of the doctrine regarding the order of beings. From Heidegger's point of view, those doctrines devoted to the ontological delineation of the order of beings – those doctrines which totally disregard the benedictory ontological difference between Being and beings, those ontologies of the ontic developed in accordance to systems of blind conceptual categories, fundamental principles and axioms – it is these doctrines imply an ontological questioning in the naïve sense. They do not represent, as Heidegger insists, the essential task of ontology understood in the radical sense – and this is precisely what fundamental ontology is.
The cult of the concept of absolute originality, the cult of the Firstness, is one of the philosophical oddities bound up with the persistent assertion of such an ontological questioning in the radical sense, as advanced by Heidegger. According to fundamental ontology and, especially, according to its chief claim concerning the ontological difference between Being and beings, any approach which does not involve the priority of Being with respect to beings is already rejected ab ovo and defamed as inferior, as a failure, as a betrayal of the real question. As Adorno asserts: "we are constantly presented with the same invocation, variation or repetition of this premise, namely the priority of Being with respect to beings" (22). Consequently, in repudiating the conceptual sophistication of the traditional philosophical thought (and of the philosophical ontologies), Heideggerian ontology fails to consider that the concept of Being itself is not the original question which fundamental ontology would have us believe. As Adorno attempts to explain – this is, unfortunately a very laconic explanation – the concept of Being deserves to be regarded philosophically as a concept of reflection in the sense of those concepts subjected to criticism by Kant in his "Amphiboly of the Concepts of Reflection" when they are hypostasized – in other words, when they are treated as an expression of true beings as such. On this view of things, the concept of Being is not something very ancient but something rather late and, correlatively, developed in accordance with the conceptual sophistication of critical philosophical thought. It should be observed that, from Adorno's point of view, the concept of Being is a result, a historical result, attained only through a process, which, in turn, can be characterized as a conceptual and critical philosophical process. The concept of Being, in Adornian terms, is, in fact, understood philosophically as a concept – the highest abstraction, understood in accordance with the development of the conceptual sophistication of philosophical thought. It is not properly a Kantian perspective. This concept of Being as the highest abstraction is already present in Plato and in Aristotle, as Adorno claims, despite the brevity and the laconism of his elucidations.
It is certainly worth noting that Adorno's reading of Heidegger excels in presenting a collection of problems, ambiguities and contradictions which profoundly involves fundamental ontology. According to Adorno, Heidegger's fundamental ontology comprises a double refusal: in effect, fundamental ontology is a philosophical tendency developed in accordance with its emphasis upon the rejection of both conceptuality – it is pertinent to mention the delineation of the concept of Being as a non-concept – and reality – and it is convenient to consider the celebrated ontological difference between Being and beings. Fundamental ontology can be described, as Adorno suggests, by its attempt to escape both from mere conceptuality and from any reality simply or immediately accepted as such. This double approach, this double front against a philosophy of concepts and against a philosophy of reality, is precisely what characterises the efforts of fundamental ontology. However, as Adorno elucidates, Heidegger incessantly fails to attain these philosophical intentions.
The Heideggerian cult of language, or the fascination with language, has tremendous significance for Heideggerian ontology. Language as a mediation of Being, or language as the possibility of aletheia and the unveiling of Being, is not philosophically compatible with a coarse rejection of conceptual thought. As Adorno proposes, Heidegger continuously disregards the fact that the concept of Being, in terms of its origin and its legitimacy, is directly bound up with the categorial structure of language. Heidegger's ontology perniciously explores such a quid pro quo involving Being as a concept – Being as an element of language, entity, and even Being as a non-concept – which cannot be expressed through mere meanings insofar as it is not exhausted by conceptual terms nor by subjectively instituted concepts, and is cut off from conceptual thought. Nevertheless, such a remarkable ambiguity between Being as concept and Being as a what-is-beyond-concept is not acknowledged by fundamental ontology as a deficiency at all, as Adorno explains. On the contrary, it is chalked up as a positive and counted as credit. Why? The enigma, or the touchstone, underlying Heidegger's pernicious ambiguity is taken as a venerable philosophical position that proceeds from a peculiar account of language that is incessantly proposed by Heidegger: the idea that language as a true, pure and absolute entity, or the idea of language as the domain of the unveiling of Being, is that of an immediate medium, organon or 'complexus' of truth that is deprived of any conceptual elements or aspects – and, as Adorno elucidates, also deprived of subjectivity and historicity. Hence, the concept of Being – in accordance with such a conception of language – deserves to be inexorably regarded as an entity beyond mere conceptuality.
In presenting this Heideggerian ambiguity, Adorno reflects more closely upon fundamental ontology as an anti-subjectivism by apparently overcoming subjectivism and the spurious claim that philosophy has somehow escaped its imprisonment within subjectivity (and within conceptual and categorial thought) through this new ontological project. This is intimately bound up with the Heideggerian quid pro quo, acknowledged and presented by fundamental ontology as an element of apparently higher dignity, as "one of the strongest seductions of this philosophy" (46), which arises from "that wavering, negative and inarticulate character of this talk of being itself" (46). Regarding the Heideggerian refusal of reality and the abandonment of the empirical dimension – a claim which involves and justifies the celebrated ontological difference between Being and beings and, correctively, the hypostatization of the word 'Being' (by supressing the dialectic of Being and beings) – Adorno draws attention to a conspicuously Heideggerian philosophical posture:  the act of ontologizing the ontic; the repeated ontologising of ontic beings, namely, the human being itself. The anti-subjectivism which involves fundamental ontology is, in effect, the central axis treated by Adorno – that of the ontological conception regarding the human being as Dasein, which permits an elimination of the subjective character, now turned into a determination of Being. As Adorno explains, the ontological interest is profoundly incompatible with the subjective reflection itself. The subjective dimensions of reflection, spontaneity, consciousness and self-consciousness, and, by extension, the subjective dimensions of critical, conceptual and discursive thought, are all totally avoided and obliterated in order to sustain an ontological conception of Dasein as a 'mode of being' or, in a developed sense, a "shepherd of being", where the latter serves as a primitive agrarian metaphor set forth by Heidegger in Letter on Humanism, and serves as an amusing object of Adorno's attention.
According to Adorno, Heidegger sets out to extirpate subjectivity by transforming it into the scene or arena of ontology. In effect, this ontological kind of thinking, for which Being appears or manifests itself in Dasein, naturally evokes something related to subjectivity; but, at the same time, it loses what was so decisive for this subjective form of thought – in other words, it loses that moment of subjectivity that appears in Kantian philosophy under the name of 'spontaneity' and in Hegelian philosophy, under the name of 'labour'. In fundamental ontology – and this is, as Adorno explains, the phenomenological legacy of the doctrine which Husserl had already developed, namely the idea of the pure intuiting of the thing in question – subjectivity is actually introduced as a kind of pure receptivity; subjectivity becomes that to which Being manifests itself, yet without that moment of activity, or that 'function', as Kant also occasionally puts it, properly being acknowledged. Consequently, a philosophical relevant determination of the Heideggerian project consists in "taking up that moment of reflection and subjectivity which is directly opposed to the ontological approach and integrate it into his original project by turning it into a mode of objectivity, turning 'existence' into Seinsweise, or 'mode of being'" (82). It is the absolute precedence of Being over beings, the total precedence of Being over human existence, that concerns us here. This structure – that a particular being is itself ontological – is the defining and distinctive touchstone of the doctrine of Dasein, and it implicitly expresses Heidegger's intention of avoiding the conflation of his own analysis of Being with the 'philosophy of existence' associated with Kierkegaard or Jaspers. Ultimately, as Adorno suggests, this ontologizing of the ontic, this reduction of the ontic being to Being, promotes, in an unexpected and ineluctable way, the superfluity and the dissipation of the celebrated ontological difference, which gives rise to the absolute hypostatization of Being. Indeed, Adorno's acute reading of the Heideggerian analysis of Dasein deserves an extended treatment, for it excels in considering the anti-subjectivism manifested in fundamental ontology. Nevertheless, we venture to say that Adorno disregards the philosophical relevance of the Heideggerian notion of Befindlichkeit as a singular determination of human being, which cannot be reduced to any subjective or discursive determination developed by critical thought.
The Adornian emphasis upon the anti-subjectivist turn introduced by Heidegger's fundamental ontology represents a crucial element of Ontology and Dialectics. According to Adorno, this "pseudo-revolutionary form of thought" (121) – which incisively repudiates the axes of modern critical form of thought, declaring itself to be a pre-critical return to naïve realism – expresses "a reactionary mentality" (121), which can be characterized by its philosophical intention of destructing the subjective mediation of thought, the critical moment of thought, in order to extirpate Enlightenment and rational thought. In Adorno's words, Heidegger's ontological project imposes itself as a pernicious philosophical tendency which can be described as irrationalism, counter-Enlightenment and, ultimately, return to myth, return to barbarism. In rejecting the question of the mediation of Being, and in repudiating the critical relevance of the thinking subject and the subjective determination of knowledge, Heidegger's philosophical project, developed in accordance with the veneration of a truth fallen into oblivion (namely Being), expresses an odd return to myth and to fate that elaborates a philosophical project that denigrates philosophizing in favour of a particular relationship to language – an archaic language – that is totally devoted to what is primordial, original or authentic, and, supposedly, purified of conceptual determinations. The analysis of a collection of poems written by Heidegger – characterized by its "inferior character" (162) and "wretchedness" (162) – is an integrate part of Adorno's emphasis upon the conspicuously archaic moment of Heidegger's fundamental ontology: the spuriousness of Heidegger's philosophy and poetry resides in its veneration of an archaic kind of thinking, which manifests an intention to suppress historical and social determinations inextricable to the act of philosophizing.
Regarding Adorno's remarks on Heidegger's poems, it is perhaps not superfluous to draw attention to an important aesthetic essay dedicated to Hölderlin's late poetry: the essay entitled "Parataxis: On Hölderlin's Late Poetry", written by Adorno in 1963, which is fundamentally devoted to condemn Heidegger's approach to art, namely to Hölderlin's poetry; interestingly, according to Adorno, the Heideggerian commentaries on Hölderlin's poetry reveal the total absence of aesthetic sensitivity towards the poetic object – the lack of an aesthetic organ (Mangel an ästhetischen Organ), as set forth by Adorno in his essay.
It is convenient to take into account the centrality of the concept of Schicksal in Heidegger's ontology, for it clearly illustrates the intention of supressing the critical dimension of the act of philosophizing in order to establish a reversion to fate and a revocation of rationality and, ultimately, of freedom. In Adorno's words,
"the concept of fate or destiny here ascribed to 'being' is that of a blindly entangled will – for what is ascribed to 'being' in this context bears all the marks of irrationality. In other words, 'being' is characterized as something utterly obscure that may somehow be intimated and venerated, but about nothing substantive can ever be said. In the first place, you should clearly observe how this very passage moves directly to the concept of Schicksal or fate, and how this concept of fate, even if it is indeed indexed historically, is furnished with that blind and ineluctable character which belongs to the ancient and traditional notion of fate" (117).
The Heideggerian emphasis upon the concepts of time and historicity is actually designed to deceive: the concept of Schicksal – regarded in its philosophical affinities with the concept of Hörigkeit, or 'obedient hearkening', a hearkening to Being which sounds like blind submission – defines and determines Heidegger's form of thinking. It's worth noting that Schicksal and Hörigkeit represent Heidegger's condemnation of the critical thought – the critical labour of the conceptual, as Adorno puts it, according to Hegelian positions – regarded by fundamental ontology as a process of philosophical degeneration. Heidegger annuls critical labour, as if philosophy could assume a historical standpoint beyond history; although, philosophy is enjoined to obey history, which is then, like existence, itself ontologized.
The philosophical purpose of Ontology and Dialectics, as announced by Adorno in the first lectures, consists in throwing light upon the philosophical discrepancies, contrasts and oppositions between fundamental ontology and negative dialectics. We conclude that Adorno leaves untouched a philosophical intention of forming the heart of negative dialectics in Ontology and Dialectics, for Adorno passes in silence the chief lines indicative of such a philosophical intention. In the context of Lecture 23, the last lecture of Ontology and Dialectics, there is a philosophical concept under the name "negative dialectics" that is described theoretically by fundamental determinations, but, interestingly, in order to offer a precise theoretical description of negative dialectics, Adorno proposes to consider the most relevant philosophical condemnations advanced against Heidegger's fundamental ontology, especially the disapproval concerning Heidegger's project as a philosophical tendency intended to perpetuate mythical thought. Dialectical thought, in its turn, is described as a philosophical attempt, "by means of cunning, the oldest medium of enlightenment" (240) to dissolve the mythical context of nature, to transcend the immediate context of nature without imposing its own domination, the domination of reason – in other words, dialectical thought "attempts to transcend nature without incurring that sacrifice and rage which would merely perpetuate the same context of nature" (240). As Adorno argues, dialectical thought excels in being the acne of enlightenment – the culminating point of conceptual thought – presented in its critical potential to extirpate the mythical context of nature. In accordance with these observations, it is worth noting that Adorno considers the mythical context of nature under the conception of identity – or, identity principle. Indeed, the idea of such a negative dialectics, as delineated and described by Adorno, implies a critique of identity – a critique of mythical forms of thought. It is the philosophical purpose of negative dialectics to abolish the circle of identity and the correlative identity principle. According to negative dialectics, the philosophical procedure of conceptualization is devoted to the determination of the non-identical; the negative element of thought which cannot be entirely tolerated under the identity principle. Such a principle – the identity principle – does not recognize the prominent prerogative of subjectivity or subjective mediation, which consists in determining the non-identical, the negative element of thought, without extirpating it under the logic of conceptual hypostatization.
In conclusion, it is important to lay emphasis on the logic of conceptual hypostatization. As Adorno argues – and this forms the core of the book Negative Dialectics (1966) – negative dialectics attempt to contradict any positive and unconditionally total dialectic elaborated under the identity principle. To distinguish negative dialectics, Adorno's own philosophical project, from the Hegelian model of dialectics is, indeed, the theoretical axis of Negative Dialectics: the Hegelian elaboration of the supreme concept of Geist as a philosophical bizarreness which, as Adorno states, implies the pernicious sovereignty of the identity principle and its aspiration for (false) totality. Interestingly, in Negative Dialectics, the Hegelian dialectics – regarded as a model of dialectical thought, and not as the dialectical thought par excellence – there is treated by Adorno a degenerative dialectic, which succumbs to the hegemony of the identity principle and, consequently, to the annihilation of the preponderance of the negative elements of thought. According to Adorno, the hypostatization of the concept of Geist as a superlative entity, developed as an absolutization of the concept of subjectivity, clearly illustrates the process of decline of the Hegelian dialectics – a process of decline due to the assumption of the identity principle. It is not, perhaps, philosophically irrelevant to consider a subtle affinity between Hegel's Geist and Heidegger's Sein (advanced by Adorno as against the philosophical intention of elaborating supreme concepts, supreme conceptual entities which subsume the ontic or individual elements or realities under an aspiration for total identity), as an incisive disapproval of both Hegel's dialectics and Heidegger's fundamental ontology. The chief purpose of Adorno's negative dialectics consists in presenting the philosophical prerogative of subjectivity: subjective mediation as an act of spontaneity devoted to determine the non-identity and the negative elements of thought in order to destroy – through the critical labour of the concept – the identity principle (a mythical principle) which governs conceptualization itself.
Is it possible to abolish the identity principle through the labour of concept? Is it possible to extirpate the supreme conceptual entities, such as absolute subjectivity, or Geist, through the act of subjective spontaneity? To present and consolidate the fundamental lines of thought of negative dialectics with conviction represents a philosophical tour de force developed by Adorno. But, as with all tours de force, we are confronted with confusion, perplexity and uncertainty: How philosophically convincing is negative dialectics, Adorno's philosophical project? The response should be found not in Ontology and Dialectics, but in Negative Dialectics.