Sonja Feger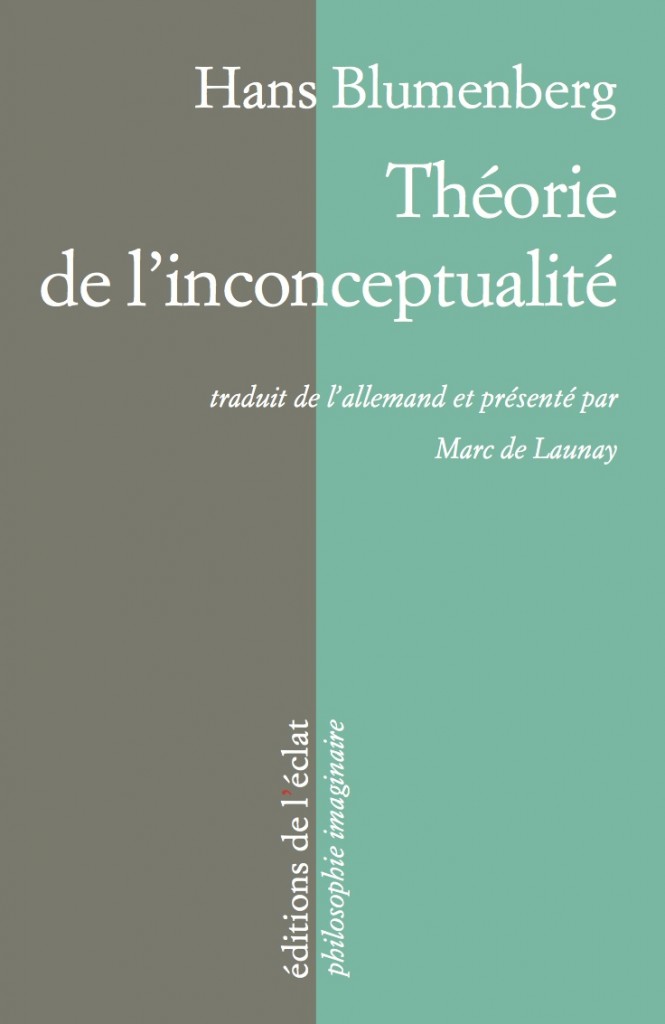 Théorie de l'inconceptualité
Philosophie imaginaire
Éditions de l'éclat
2017
Paperback 15,00 €
144
Reviewed by: Sonja Feger (Universität Koblenz · Landau)
Recent years have seen several new translations of books and shorter works by Hans Blumenberg into English and French, and an English edition with Blumenberg's most important shorter writings is forthcoming[1]. The French translation under review here, published in 2017, is further evidence of this growing interest in Blumenberg's work.
Blumenberg's previously unpublished text Theorie der Unbegrifflichkeit was first edited in its German original by Anselm Haverkamp in 2007. Theorie der Unbegrifflichkeit (Theory of Nonconceptuality) borrows its title—and so does the French translation by Marc de Launay—from a 1975 summer term lecture Blumenberg gave in Münster. This short text is of particular interest, as it relates several themes within Blumenberg's thinking in a rather condensed way.
The main text (7–108) consists in the edition of those typescripts Blumenberg based his lecture upon (see 128) and is followed by an appendix entitled "Bruchstücke des 'Ausblicks auf eine Theorie der Unbegrifflichkeit'" (Perspective sur une théorie de l'inconceptualité; 109–125)[2]. A translation of the editor's postface completes the volume (127–131). Théorie de l'inconceptualité most of the time does without headings or subheadings; only an excursion on 'economy and luxury' (19–26) and a revised passage on 'negation' serving as a transition (89–91) fall under headings. Instead, larger sections are simply divided by page breaks. As the editor remarks, Blumenberg presents his observations giving examples with varying levels of complexity, and often does so without guiding his listeners or readers to a conclusion (des exemples de complexions diverses—souvent sans déboucher sur une conclusion; 131). By refusing to add any new headings or divide Blumenberg's work into sections, the editor succeeds in carefully preserving and communicating the original character of the typescript, which is between the tone of a lecture and a written text. Because all Blumenberg's texts stylistically dense they present a challenge to the reader, and this text is no different. If one expects an easy-to-read introduction to his works, one will not find it in this booklet. Nonetheless, the themes discussed are at the heart of Blumenberg's phenomenological project and are well worth the effort.
To begin with, it is difficult to judge what exactly the book is about. Here is my proposal: one might say that the text as a whole bundles varieties of human ways to deal with reality. More specifically, in Théorie de l'inconceptualité, Blumenberg primary focus is upon the epistemic operations humans are capable of. Specifically, he is interested in one particular way for humans to engage with reality, namely in the act of theorizing—or, to put it in phenomenological terms, the act of distancing oneself from one's object of consideration by adopting a theoretical attitude.
Théorie de l'inconceptualité may be regarded as a text about 'theory' in a twofold or two-layered way. First, Blumenberg addresses various epistemic operations humans are capable of, focusing on the role of conceptual thinking (or its lack) in cognition. In his attempt to describe the structure of conceptual thinking and to ascribe to it the role it plays in cognition, Blumenberg scrutinizes the various forms the act of theorizing can take.. Secondly, Théorie de l'inconceptualité is itself a theoretical work. This does not so much amount to opposing theoretical and practical philosophy to one another, for Blumenberg himself does use practical examples (though in a broad sense) as much as he draws from epistemological observations and concepts. Rather, Blumenberg considers the ability to take on a theoretical attitude as something we do and perform; for him, it is a distinguished, an essentially human one. In short, Blumenberg addresses theory as one of the human ways to engage with reality from a precisely theoretical point of view. In other words, theory is taken both as a method and as the object in question; that is, theory itself becomes the very object of Blumenberg's theoretical interest. In this sense, the above-mentioned two-layered approach to be found in the text emerges with Blumenberg playing on the reduplication of theory.
As a first step in this review, I want to discuss Blumenberg's proposal for a notion of conceptual thinking. Secondly, I will link conceptual thinking to the theoretical attitude humans can assume. Then, I will turn to consider Blumenberg's attempts to delimit conceptual thinking and nonconceptuality and his anthropological observations. By way of conclusion, I will touch upon the connection between the anthropological and the epistemological dimension found in Théorie de l'inconceptualité. It goes without saying that I cannot consider every aspect the text touches upon. Other topics within the wide range of Blumenberg's observations such as aesthetics, the concept of the lifeworld, happiness, metaphors, the epistemic operation of negation or the anthropological function of prevention must remain largely uncommented upon here.
Conceptual thinking
Contrary to what the title of the book suggests, the text does not start out by shedding light on what is to be understood by the term of 'nonconceptuality'. Rather, Blumenberg's text first lays its focus on conceptual thinking. However, rather than aiming at a (precise) definition of either of the two, Théorie de l'inconceptualité raises the question of how those two different ways of dealing with reality might refer to each other and, moreover, refer to theory in general. The reader expecting to be given a precise definition of at least one of the two terms will be deceived.
The fact that the text lacks a precise definition of conceptual thinking does not mean that Blumenberg does without spelling out crucial aspects he ascribes to conceptual thinking. For him, two features are to be found at the core of conceptual thinking: first, conceptual thinking has something to do with the phenomenon of absence (Le concept a un certain rapport avec l'absence de son objet; 7). For example, imagine the groceries you have run out of, which are therefore absent, and which you (mentally) represent when writing a shopping list. For Blumenberg, what one does in this case is use conceptual thinking in order to re‑present that which is not tangibly accessible (le concept seul demeure, qui, de son côté, représente toute l'échelle de ce qui est sensoriellement accessible; 7).
Blumenberg's own example of the representation of an absent object in conceptual thinking, however, is more specific than my example of a shopping list. It consists in referring to a primal scene of anthropogenesis, namely the construction of a trap. A trap layer has to adjust his construction in shape and size to the animal he hopes to catch eventually. For example, setting a trap adequate for catching a mammoth requires nothing more than calling into presence that very mammoth which is absent the moment the trap is being set. Having a concept of a mammoth thus means to determine it as the expected prey, that is, to determine the trap in shape and size. In Blumenberg's view, what the trap layer accomplishes is a conceptualization of an absent object. Or, to put it in phenomenological terms: laying a trap involves knowing an eidos and acting upon that knowledge. What Blumenberg's example emphasizes, however, is that being able to use concepts is an achievement in (human) evolutionary history, implicitly assuming a historical constitution of transcendental (inter‑) subjectivity.
The second aspect Blumenberg locates within the realm of conceptual thinking is closely linked to the above-mentioned phenomenon of absence and concerns the phenomenon of distance (see 7; 10). Laying a trap directs one's actions towards objects or events not immediately given but distanced in space and time: a mammoth shall not be caught right now and here but perhaps tomorrow and over there. In this regard, concepts are like tools humans use to act over a distance, they are the means of an actio per distans (12). For Blumenberg, the trap is the first triumph of conceptual thinking (Dans cette mesure, le piège est le premier triomphe du concept; 12).
Theory
According to Blumenberg, conceptual thinking such as the representation of a prey when setting a trap can count among reason's products or performances (un produit de la raison; 7). As reason encompasses conceptual thinking and, therefore, also the above-mentioned actio per distans, it follows for Blumenberg that reason is the epitome of those epistemic operations that put in a performance over a distance, both spatial and temporal (On pourrait dire que la raison serait le condensé de pareilles réalisations à distance; 8). Yet the reverse, that reason only exists when something is conceptualized, does not hold (Mais cela n'autorise pas le renversement qui voudrait que la raison n'existe que lorsqu'elle parvient […] au concept; 7). Thus, it can be emphasized that, for Blumenberg, acting over a distance by means of conceptual thinking is only a first step within humans' process of becoming a creature capable of theorizing. For what exceeds conceptual thinking insofar as it encompasses it, in Blumenberg's view, is a theoretical attitude as such.
Blumenberg makes this idea more accessible drawing from an anthropogenic assumption: man, for Blumenberg, is the being that straightens up, transcends the short range of perception, and transgresses the horizon of its senses (L'homme, l'être qui se met debout et quitte le domaine de la proche perception, franchit l'horizon de ses sens; 8). Man raises his gaze and directs it to the horizon, that is, he is no longer only concerned with objects given to him within the realm of immediate and actual tactility, but also with potentially tangible objects (again, such as mammoths caught in a trap).
In Blumenberg's view, this movement of transgression finds itself repeated. Man not only transgresses the horizon of his senses in order to master objects given to him in a (both temporally and spatially) mediated way. The above-mentioned anthropogenic moment lies in a two-step rotation of the head man accomplishes. First, he directs his gaze from the ground towards the horizon, which amounts to mastering mediately given objects over a certain distance. In this way, both building a trap and focusing on the horizon amount to an actio per distans. Second, man turns his head another ninety degrees to look at the sky (Ce qui veut dire que le regard n'est pas fixé sur l'horizon, spatial et temporal, pour attendre ce qui va arriver et pour agir sur ce qui surgit, mais que le regard, ayant accompli un mouvement à quatre-vingt-dix degrés pour quitter la direction du sol et parvenir à l'horizontal, va encore une fois accomplir une rotation à quatre-vingt-dix degrés et viser la voûte étoilée; 14). As laid out in The Laughter of the Thracian Woman, Blumenberg considers Thales of Miletus to be the "putative first philosopher" (see Laughter, Preface). It is exactly his gaze at the sky that turns him into the first contemplator caeli in a philosophical sense. Instead of anticipating prey and, therefore, being directed toward a potentially tangible object, the stars in the sky are perceptible and yet (at least for the run of several centuries) intangible. The skies represent that which encompasses the totality of all possible objects of perception, and thus represent the idea of totality. In this sense, the sky Thales of Miletus turns his gaze to represents the ultimate object of a theoretical attitude; this is why Thales is described as the proto-philosopher (le proto-philosophe et astronome Thalès de Milet; 16). For Blumenberg, it is a theoretical attitude that ultimately envisages the totality of the world (la théorie pure, son aspiration à la totalité du monde; 16). This is what Blumenberg must have had in mind when he suggests that reason's intentions exceed the performances of conceptual thinking and relate to the idea of totality (Il se pourrait que la performance d'un concept soit simplement partielle par rapport aux intentions de la raison qui semble toujours avoir en quelque manière affaire à la totalité; 7).
Starting from the concepts that correspond to empirical objects, Blumenberg proceeds by broadening the scope of his scrutiny insofar as he takes into account something by which conceptual thinking in the narrower sense is exceeded. That is, the subject not only perceives singular objects entirely detached from one another and is amazed by the sky as a cosmic whole, but also takes into account the—potential—relations between objects. To put it in phenomenological terms, one could say that it is the horizontality of noemata according to which the perceiving and reflecting subject progresses in her intentional process of intuition. The less an empirical object plays a role in the act of conceptualization (or theorizing), the more intellectual performances—such as the act of idealization—gain importance in the process of thinking. The attempt to establish a meaningful relation among particular noemata leads to a reflection on the totality encompassing them—or again in phenomenological terms: to a reflection on the horizon of all horizons. That being said, it is clear that Blumenberg shares the fundamental insight with phenomenology that there is, apart from a naïve attitude, an observing, theorizing mode of consciousness.
Nonconceptuality
Yet, the question as to which role is to be ascribed to nonconceptuality within the realm of theoretical performances is still unanswered. Once it has been shown that the use of concepts does not remain limited to representations of empirical objects (such as foods or a prey) but is also in some way involved in intellectual acts of greater abstraction, Blumenberg shifts the focus to the very boundary between conceptual and nonconceptual thinking, both of which for him are encompassed by a theoretical attitude. In conceiving of conceptual thinking as an epistemic operation that above all establishes a correspondence between intuition and understanding, Blumenberg clearly draws from a Kantian point of view. In that sense, it is not at all surprising that Blumenberg addresses nonconceptual thinking, too, in Kantian terms.
What Blumenberg does is to relate limit concepts (Grenzbegriffe) and ideas (see 41–42) to his conception of nonconceptuality. This refers to his conviction that the mode of conceptual concretization achieved in the representation of empirical objects is unlike the way abstract ideas are represented. Of course, this does not mean abstract ideas (such as the concept of world or the idea of freedom) cannot be addressed or dealt with by human reason at all. Instead, for Blumenberg, human reason has to approach abstract ideas in a different way, namely by drawing from nonconceptuality. As it follows for him, nonconceptuality must not be taken or undertaken as a mere auxiliary discipline to philosophy (une simple discipline auxiliaire de la philosophie; 56). Instead, it must be acknowledged that the preliminary endeavors to a notion of conceptual thinking do not achieve their aims (le travail dans le champ préalable du concept ne parvient pas à son but; 56) and that conceptual thinking is subject to the condition of—at least possibly—eventually being rendered concrete by the intuition of empirical objects. As Blumenberg sees it, nonconceptuality comes into play the very moment it turns out that this condition cannot be fulfilled, i.e. in the attempt to represent ideas. (Here, it seems to me to be helpful to quote both the German original text and its French translation. For what in German reads "im Zusammenhang mit der Angewiesenheit des Begriffs auf Anschauung und der Verfehlung dieser Bedingung bei der Idee" is rendered into French as follows: dans le contexte de l'articulation du concept sur l'intuition et […] de l'échec de cette articulation quand il s'agit de l'idee; 56). In other words, nonconceptual thought for Blumenberg is the means to operate in the concretization of abstract ideas. In my reading of Théorie de l'inconceptualité, limit concepts (Grenzbegriffe) and ideas (just as metaphors, incidentally) for Blumenberg represent the threshold of conceptual and nonconceptual thinking. The wide range of theoretical performances must exceed the purely conceptual.
However, Blumenberg merely indicates what a theory of nonconceptuality would have to undertake and leaves it open to his readers (or listeners) to follow down the indicated path. According to him, a theory of nonconceptuality is about reconstructing in a broad sense those horizons from which the theoretical attitude and conceptual thinking are derived (Une théorie de l'inconceptualité aurait à reconstruire les horizons, en un sens très large, dont ont procédé la prise de position et la formation conceptuelle théoriques; 112).
Anthropology
It is important to bear in mind that Blumenberg does not seek a definite notion of each of the epistemic operations in question for their own sake. As the use of both conceptual and nonconceptual thinking can be counted among the whole of epistemic performances human beings are capable of, they are part of the description of essentially human traits. That is, as Blumenberg aims at locating his observations within a larger, anthropological framework.. As he says, an anthropological theory of conceptual thinking is an urgent desideratum (Une théorie anthropologique du concept est un réquisit urgent; 9).
In order to frame Blumenberg's endeavor in Théorie de l'inconceptualité, it is helpful to come back once more to the aforementioned primal hunting scene. Blumenberg does not give a clear answer to the question of why he is using a primal scene to illustrate the performances of conceptual thinking, or to that of which epistemic status this example is supposed to hold. All he does is to underline his assumption that the image of the construction of a trap may be nothing but the best way to depict the capacities of conceptual thinking (Sans doute peut-on montrer le plus clairement ce dont un concept est capable lorsque l'on songe à la fabrication d'un piège; 8). That is, the author himself leaves it an open question as to which epistemic status must eventually be ascribed to the example he is using. However, Blumenberg makes clear that he aims to explain how the capacities of conceptual and nonconceptual thinking have become possible by taking a view that is both anthropological and genetic at the same time (J'essaie de comprendre cela du point de vue anthropologique, générique; 8). The construction of a trap may, therefore, be taken as an attempt to locate reason's performances or capacities within an anthropological, and more specifically, within an anthropogenic framework. It is thus no coincidence that Blumenberg's example is the laying of a trap some ten thousand years ago and not a shopping list.
What Blumenberg does is draw a line connecting the anthropogenic observations of man having straightened up and having accomplished twice a ninety-degree-rotation of the head to the transcendental question as to how theory—and with it philosophy— became possible. Théorie de l'inconceptualité offers a contribution to the discussion of the status of conceptual thinking from an epistemological point of view—and, beyond that, points to the discussion of reason's capacities in a whole. It is thus part of transcendental philosophy since it is an approach to the conditions of the possibility of theory. Blumenberg's view on the distinction between the empirical and the transcendental in Théorie de l'inconceptualité is quite complex: he raises a question of transcendental philosophy in aiming to lay bare the conditions of the possibility of theory; these conditions can only be explained by reference to empirical assumptions about human prehistory.
In other words, Blumenberg considers both conceptual and nonconceptual thinking to offer a crucial contribution to the project of describing man (like the title of another posthumously edited work lays out, namely Beschreibung des Menschen/Description de l'homme). As he says, one has to consider the anthropological preconditions as the source of the performances of conceptual thinking, which in turn are part of reason's intending totality (des présupposés anthropologiques […] la source d'où procède également l'efficace du concept qui n'est, en effet, que partiellement liée à l'intention de la raison visant la totalité; 122). Pointing to the intention of describing (and, in parts, explaining) characteristic performances of reason such as conceptual and nonconceptual thinking amounts to counting Théorie de l'inconceptualité among Blumenberg's numerous approaches to an anthropological philosophy. It is here that Blumenberg's endeavor exceeds the demands of a phenomenological discipline as Blumenberg gives phenomenology an anthropological orientation. What he undertakes is not a phenomenology of pure consciousness but rather a phenomenologically motivated description of an anthropogenic dimension that presumably has brought about man's ability to theorize and to philosophize at all.
Conclusion
Blumenberg's text offers a complex interplay between the fields of anthropological description and of transcendental philosophy. As Blumenberg draws attention to the question of how conceptual thinking as a part of the whole of reason's capacities might have become possible, it is especially the anthropogenic dimension that links the two. In conclusion, one could say that Théorie de l'inconceptualité can be read in a threefold way. It is, first, an anthropological text, for it focuses on performances of human reason. Since the main interest of the text lies in reasoning and in all the various forms reason may take, the text may, secondly, be regarded as pursuing a project in epistemology. What then provides a link between the anthropological and the epistemological dimensions is, thirdly, the extension of genetic phenomenology into the anthropogenic view Blumenberg puts forward.
At this point, one might return to the style in which the text is presented. Although the title may seem to promise a fully developed theory of nonconceptuality, the text itself maintains a tentative and exploratory character. The reader is offered examples and illustrations taken from diverse texts of philosophy and literature and thus is offered nothing more—and, one has to add, nothing less—than enriching descriptions of the performances of human reason. All of these descriptions are strongly influenced by the phenomenological tradition. Théorie de l'inconceptualité should be counted among Blumenberg's attempts to contribute to a phenomenologically influenced anthropology.[3]
Selected Bibliography
Blumenberg, Hans. 2011. Description de l'homme. Translated by Denis Trierweiler. Paris: Les Éditions du Cerf.
Blumenberg, Hans. 2015. The laughter of the Thracian woman: A protohistory of theory. Translated by Steven Rendall. New York: Bloomsbury (quoted as: Laughter).
Blumenberg, Hans. 2017. Concepts en histoires. Translated by Marc de Launay. Paris: Édition de l'Éclat.
Blumenberg, Hans. 2018. Lions. Translated by Kári Driscoll. Calcutta, London, New York: Seagull Books.
Blumenberg, Hans. 2018. Rigorism of Truth: Moses the Egyptian and other Writings on Freud and Arendt. Edited by Ahlrich Meyer. Translated by Joe Paul Kroll. Ithaca, N.Y.: Cornell University Press.
Bajohr, Hannes, Fuchs, Florian, and Joe Paul Kroll (eds.). 2018 (in press). The Hans Blumenberg Reader. Ithaca, N.Y.: Cornell University Press.
---
[1] Hannes Bajohr, Florian Fuchs, and Joe Paul Kroll (eds.). 2018 (in press). The Hans Blumenberg Reader. Ithaca, N.Y.: Cornell University Press. Other recent translations of Blumenberg's work include among others: Blumenberg, Hans. 2017. Concepts en histoires. Translated by Marc de Launay. Paris: Édition de l'Éclat; ibid. 2018. Lions. Translated by Kári Driscoll. Calcutta, London, New York: Seagull Books; ibid. 2018. Rigorism of Truth: Moses the Egyptian and other Writings on Freud and Arendt. Edited by Ahlrich Meyer. Translated by Joe Paul Kroll. Ithaca, N.Y.: Cornell University Press.
[2] Unless stated otherwise, all page references refer to Théorie de l'inconceptualité.
[3] I want to thank Tobias Keiling for numerous helpful comments.