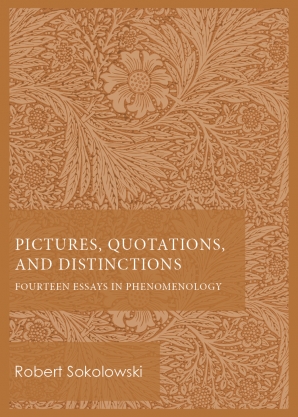 Pictures, Quotations, Distinctions: Fourteen Essays in Phenomenology
Catholic University of America Press
2022
Paperback $34.95
340
Reviewed by:  Chad Engelland (The University of Dallas)
The fourteen essays in this volume are exercises in what the author terms "applied phenomenology" (ix) in contrast to the formal analyses found in his Presence and Absence: A Philosophical Investigation of Language and Being. The aim of both volumes is to recover the question of being by reclaiming the truth of appearances.
The essays in this book are attempts to describe various ways in which things can appear: as pictured, quoted, measured, distinguished, explained, meant, and referred to, and also as coming to light in moral conduct. The description of each of these forms is made more vivid and exact by being placed alongside the descriptions of the others. And because appearance always involves that which appears and the one to whom it appears, my essays are meant to be not only an analysis of appearance but also a venture into the question of being and a clarification of what we are. (xiii)
The fourteen essays, arranged in six parts, cover central topics of interest to students and specialists in phenomenology, philosophy of language, philosophy of science, and ethics. Sokolowski exercises a sovereign philosophical voice that plainly and without fuss lays bare the being of things—and in doing so infectiously invites us to do the same.
In the first part on representations in image and in speech, Sokolowski explores ways of referring to absent things as well as to beliefs other than our own. Picturing requires a unique intentional relation that makes present something that is absent. Naming, by contrast, targets something whether present or absent without making it present in any way. Quoting allows us to target things as intended by others so that we can toggle between our own present articulation of things and those of others without, however, necessarily adopting others' views as our own.
In the second part on coping with intelligibility, Sokolowski reflects on the explanatory power of strategically distinguishing one thing from another: making sense is not principally a matter of argument or dialectic; it is principally a matter of elucidation by identification with the appropriate kind. For example, pictures are other than quotations and sense is other than reference.
In the third part, Sokolowski details the part-whole structure of time and space and considers themes that arise in the ambit of science concerning the intentionality of timing and of measurement. He also includes a rewarding essay on the relation between the complex world in which we live and the exact one arrived at through the idealizations of science.
In the fourth part, Sokolowski turns explicitly to the philosophy of language and develops, in a phenomenological voice, the difference between sense and reference. He argues that we should "exorcise concepts" as nothing more than a baleful prejudice that, while explaining nothing, generates a host of intractable pseudo-problems. Philosophy's habitual appeal to concepts comes from a continual failure of nerve, a continual failure to realize that we can and do refer to absent things without the mediation of some sort of present mental entity; in fact, the positing of such an entity is a matter of falling prey to what Sokolowski calls a "transcendental mirage," a matter of thinking something is there when it is not. Instead, we can handle everything about the phenomenon of language by positing a speaker, speaking about something, to someone. The speaker presents something to someone by means of a "slant" on things. Positing concepts undermines the intentional relation to things; slant-talk reestablishes the fact that speaking is at bottom an issue of the presentation of something to someone. Sokolowski's analysis of referring nicely displays the advantages of the phenomenological method for exploring the intentionality of naming; it defends both the integrity of ordinary ways of reference and the value of philosophical idealizations of the sort operative in mathematical logic.
In the fifth part, Sokolowski attends to the part-whole structure of sentences and images. Grammar signals not only the thoughtful activity of the speaker but also the need for the listener to undertake the same activity to achieve understanding. Despite a surface similarity between words and pictures, they present things with different conditions of satisfaction.
In the sixth and final part, Sokolowski presents a phenomenology of ethical performance, which develops themes from his Moral Action: A Phenomenological Study. Abstraction stands in the way of moral understanding, which is by nature embodied in the very behavior of morally good agents: "To be able to respond to the natural law—indeed to let it become actual as law, to show by one's actions what can be done, and thus to make others see what should be done—is to be a certain kind of person: not one who simply conforms to things set down, but one who lets the good appear, to himself and to others, in what he does" (291).
With Sokolowski, the practice of philosophy may be fruitfully understood as a matter of explaining or exhibiting intelligibility by means of carefully distinguishing one thing from another, and of doing so for ourselves and each other together. Hypothesized mental entities only gum up our understanding of language and being; exorcising them allows language to spring again to life so that the wonder-inducing operation of presentation and articulation can once again be registered and appreciated. Those who wish to follow concrete paths into the heart of being could not do better than to pick up this illuminating collection. Highly recommended.